The Campaign For His Release
While acknowledging that Vanunu violated his secrecy oath as a nuclear weapons worker, thousands around the world regard him not as a spy or traitor but as one who gave his information freely and without compensation for the sake of others. In countries throughout the world he is honored for his courage and integrity in telling the simple truth at a great personal risk.
Vanunu repeatedly has been nominated for the Nobel Peace Prize. The European Parliament has called on Israel to release him on humanitarian grounds, as have the Federation of American Scientists, a task force of the American Physcial Society, the International Peace Bureau, the Episcopal and Jewish Peace fellowships, religious, scientific, and cultural leaders, and others concerned about human rights violations and the spread of nuclear weapons. Campaigns for his release are active in a dozen countries in addition to the United States and Israel.
The American campaign is coordinated from Madison Wisconsin, by Sam Day, a veteran peace activist. Associate coordinators are Arthur Laffin, Washington DC, and Felice and Jack Cohen-Joppa, co-editors of the Nuclear Resister in Tucson Arizona. The campaign publishes a quarterly newsletter; sells books, videotapes, T-shirts, and other educational materials about the case; provides speakers; organizes demonstrations at Israel's embassy in Washington and at the UN; assists campaigns in other countries, and provides subsistence support for Vanunu in prison.
In calling for the release of Vanunu and acknowledgement of Israel's nuclear arsenal, the US Campaign also focuses critical attention on US nuclear weapons policies. One problem is the double standard which undermines the government's official stance against nuclear weapons proliferation. While opposing the nuclear aspirations of Third World countries like Iraq and North Korea, successive Presidents have turned a blind eye to the major transgressions of Israel, our close Middle East ally. The other problem is our own government's continued reliance on nuclear weapons as a way of projecting US power and influence around the world. The campaign's ultimate goal, inspired by Mordechai Vanunu's example, is a nuclear free world.
---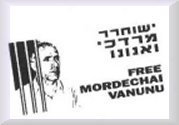 last updated April 16 1998